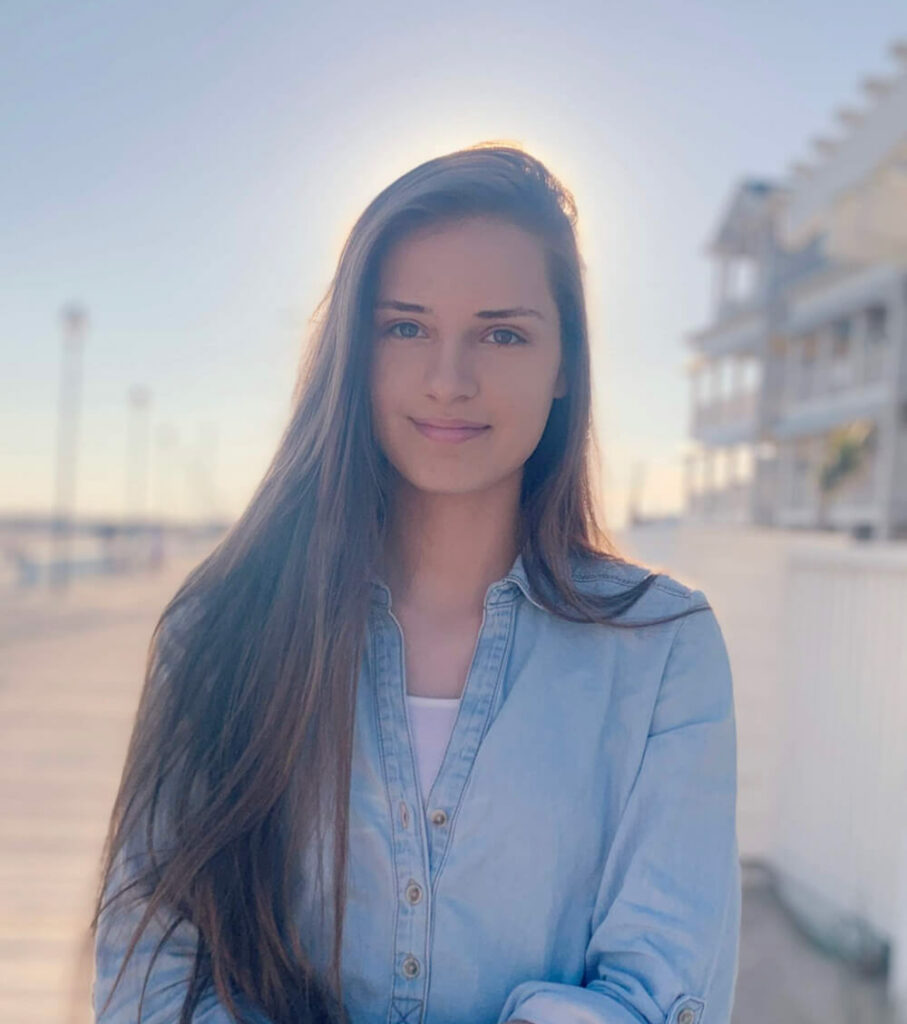 With family originating in Moldova, Emanuela found her home here in America just a few months before she was born. Growing up, she was engrossed in sports with trampoline and tumbling being her muse. As Emanuela matured, greater goals came. She wanted to win nationals and even world championships. This sport consumed her life, alongside her dedication to her studies. She attended a homeschool cooperative in order to pursue her athletic dreams. In this great sport, Emanuela learned responsibility, sportsmanship, leadership, goal setting, and hard work. It taught her the lessons of both winning and losing.
While in the homeschool cooperative, Emanuela met a girl who brought her to the knowledge of the truth. During a sleepover, a Bible study ensued and Emanuela felt the arms of God wrapping around her, showering her with love and acceptance. After explaining to her friend the feelings she was having, an hour later, she received the precious gift of the Holy Ghost on the floor of her best friend's bedroom. A few weeks later, she was baptized and convinced her parents to switch churches. Emanuela's beautiful story led her to where she is today. She left the life of trampolines and tumbling to exemplify a life after Christ. She is currently in children's ministry in her local church and plans to attend college to become a children's educator.
"Since I was a little girl, I knew that I wanted to educate people. Now that I am older, and filled with the Spirit, I can see how impactful teaching can be. I have the ability to evoke thoughts, inspire imaginations, and exemplify Christ in every step of the way."
Emanuela entered the soul winning mission field at her campus and has fallen in love with soul winning. She has recently felt a pull to reach the Western European and Moldovan people. She is currently discipling a few of her Moldovan and Romanian friends that grew up in the Moldova church in Knoxville, and their desire to find Jesus is ever-present.
As Emanuela so perfectly said, as Jesus will use her, she is ever-available to the unknown future that is in His hands!
It has been an honor to award Emanuela Alii Cross with our 2022 WOW Scholarship! May God continue to bless her in all her future endeavors.
What are your academic goals?
I am planning to attend Pellissippi State Community College for the first two years, and then Tennessee Tech for the two latter years in order to receive a degree in Elementary Education.
What is your involvement in the local church?
I jumped into children's ministry at my church, and immediately fell in love. I loved coming into a room full of smiling faces and bright eyes every Sunday. They would light up when they learned something new about the power of Jesus, and I wanted to see it as often as I could.
How are you winning souls?
"Emanuela has become a vital part of The Turn Campus Outreach, our University of Tennessee campus ministry… She has been the face of several social media invitation posts." — Pastor Mark McCool
How are you involved in your community?
I have volunteered at several gymnastics competitions in various locations for a total of 13 hours. I have also served in the student council every year in high school, one of them serving as Secretary. I am currently volunteering in a classroom at Farragut Primary school. I read to the children and help them with anything they may struggle with.
What do others say about you?
"Ever since she was young she has always had a joy and determination about her. This determination has brought her far academically and spiritually. Her actions and servitude towards her community and family are reflected through her relationship with Jesus." —Grigore Alii

"Emanuela is a well-disciplined, industrious student with a pleasurable personality. She always goes well beyond expected requirements in the quantity and quality of her endeavors…." —Pastor Anthony McCool